Case Study – Big Fish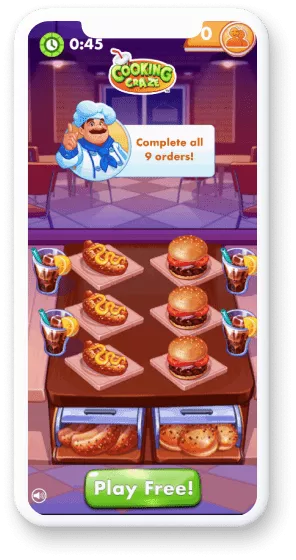 Since 2002 Big Fish Games has innovated, developed and published an extensive portfolio of popular casual games across genres. Well known for its popular games Gummy Drop!, Cooking Craze, Fairway Solitaire and EverMerge, Big Fish delights millions of players every day all over the world.
Big Fish finds spenders among LAT users
Challenge
Cooking Craze, the time management cooking game, was released in 2017 and eventually ranked among the top 100 strategy games. Three years later, acquiring users who hadn't already installed the game became harder and harder.
Solution
LifeStreet suggested that Big Fish look for new players among a pool of users they were currently not buying–those who had selected LAT (Limited Ad Tracking) in their privacy settings. LifeStreet had seen successes running LAT campaigns with other advertisers and knew that because there was less demand for these users, their attention would be easier to engage.
Because LifeStreet is one of Big Fish's longest standing and most trusted partners, the game developer was willing to expand with the help of LifeStreet their user acquisition efforts beyond IDFA (Identifier for Advertiser) traffic. They were confident that LifeStreet's custom modeling platform had the training needed to immediately start optimizing bids based on the likelihood that a LAT user would convert. This removed any guesswork that could have resulted in wasted spend.
To find the scale needed for this campaign, LifeStreet partnered with a few trusted mobile exchange partners, including MoPub. MoPub, a division of Twitter, is the leading mobile programmatic exchange exclusive to in-app. MoPub and LifeStreet have had a long-standing track record of successful campaigns and LifeStreet knew that MoPub's scale across LAT users would help them hit Big Fish's campaign goals.
Results
LifeStreet's LAT campaign became a top performing campaign overall for Cooking Craze.
ROAS performance of LifeStreet's LAT campaign was similar to LifeStreet's non-LAT campaign.

Spend for LifeStreet's LAT campaign increased up to the same level as for LifeStreet's non-LAT campaign.


By working with MoPub as a supply source, LifeStreet was able to scale the LAT campaign while maintaining quality users; helping Cooking Craze hit key KPIs. Of all exchange partners for the campaign:
MoPub's inventory provided the highest payer rate.

MoPub users had the highest spend per payer.

MoPub was one of the top two exchanges for Day 7 ROAS.


Brian Mackey
Strategic Partnerships at Twitter