Case Study – Jam City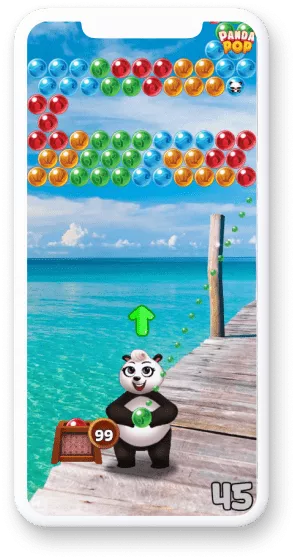 Jam City is a mobile gaming powerhouse with a portfolio that includes match-3, role-playing, and narrative-rich experiences. Cookie Jam and Panda Pop are among their highest-grossing and longest-running titles which are played by tens of millions of monthly users across 40+ countries.
Panda Pop, a bubble-shooting-panda-saving strategy game, has 140+ million downloads to date.
LifeStreet's longstanding partnership with Jam City drives confidence and ROI with Limited Ad Tracking Campaign
Challenge
In 2014 LifeStreet launched its first Panda Pop campaign which ran on a CPI (cost per install) with no post-install data to optimize towards. Even though the campaign hit Jam City's goals for return on ad spend (ROAS), LifeStreet knew that with revenue visibility they could improve targeting and campaign performance. Jam City agreed to share Panda Pop's attributed revenue data which allowed LifeStreet to optimize towards ROAS and exceed D7 and D30 benchmarks.
After seeing the positive impact attributed revenue data had on campaign optimization, Jam City agreed to also share Panda Pop's unattributed revenue data. These additional insights gave LifeStreet the amount of data needed to build and test custom models which better predicted payer propensity compared to LifeStreet's traditional conversion model.
Recently, however, it seemed that the campaign's upward trajectory may have hit an inflection point. That's when LifeStreet suggested to Jam City that they look for new Panda Pop users among LAT (Limited Ad Tracking) traffic — an audience segment that had been contractually excluded up to that point.
Solution
Because LifeStreet had always offered complete visibility into a campaign's ad placement, pricing, and data, Jam City agreed to allocate a small portion of its overall budget to LAT traffic. Additionally, LifeStreet predicted they would be able to quickly hit Jam City's D7 ROAS goals across LAT traffic by applying the same bidding model used for can-track campaigns.
Results
The LAT campaign immediately exceeded D7 ROAS goals and performance has been consistently strong ever since the campaign launched in March.
34% higher ROI on LAT campaign compared to IDFA campaign.

28% overall increase in ROI across US iOS (both LAT and IDFA).

Started testing LAT campaigns on other titles.