Case Study – InMobi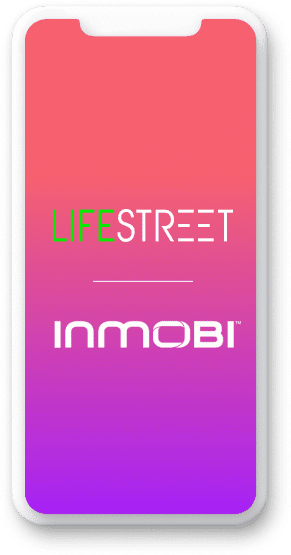 InMobi drives real connections between brands and consumers by leveraging its technology platforms and exclusive access to mobile intelligence. Its Marketing Cloud creates new paths for brands to understand, identify, engage and acquire connected consumers. As a leading technology company, InMobi has been recognized on both the 2018 and 2019 CNBC Disruptor 50 lists and as one of Fast Company's 2018 World's Most Innovative Companies.
InMobi and LifeStreet team up to drive 230% increase in registrations for performance marketing agency
Challenge
A leading performance marketing agency uses highly targeted rewarded campaigns to help mobile marketers find their best customers among audiences who have opted in to receive relevant offers from brands. After signing up for a new subscription, registering for a free trial, or completing a survey, the user is directed to a rewards page. Using the traditional performance model, brands only pay when the desired action is taken. Over time, the Agency noticed a correlation between reward aficionados completing a form or survey, and mobile gamers. Responsible for driving top-of-the-funnel conversions for a diverse portfolio of brands, the Agency wanted a mobile marketing partner that could help them acquire a significant volume of reward-seekers through in-app games and hit day one 100% ROAS.
Solution
LifeStreet's bidding and creative strategy combined with access to premium in-app gaming audiences from InMobi, a global leader in in-app advertising and mobile marketing, helped the Agency scale and drive conversions.
Bidding strategy:

By lowering bids for the overall campaign, LifeStreet increased volume by 160% and conversions by 200%.

Creative strategy:

LifeStreet's iterative creative testing determined which combination of design elements and templates would drive peak performance. LifeStreet's customized creative outperformed the advertiser's third-party assets with lifts in yield between 50-100%.

Audiences:

InMobi was a crucial mobile supply partner, providing access to rewarded and interstitial supply on premium lifestyle and casual gaming apps. Between October 2020 and April 2021, InMobi delivered:
Highest ROAS of all exchange partners
Highest CTR
50% of conversions
50% of payers and highest payer rate
Results
Between December 2020 and January 2021, the Agency increased spend by 168% as LifeStreet had exceeded all KPIs across multiple campaigns:
230% increase in registrations
23% increase in ROAS
19% reduction in eCPR (cost per registration)
10% increase in impression-to-registration rate